My 10th book will be out at the end of this month. Called TAHOE TRAP, it is about a 10-year-old illegal, Mexican, immigrant boy whose foster mother is murdered, leaving him homeless and, because he doesn't speak any Spanish, without even a country he can call home. I'm exited about this book. It may be my best, yet.
For my schedule of talks and signings, please visit my Events Page.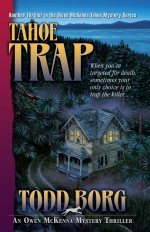 The 10th Owen McKenna Tahoe Mystery
Thank you for your interest and support!