Ever wonder what an author does to launch a book?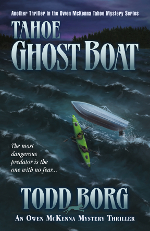 This last Friday evening was the beginning of my book launch for Tahoe Ghost Boat.
I sent out 2300 emails to announce my new book, then drove across town to Artifacts in the Raley's Village Center. (I always do my first signing at Artifacts because the owners used to own Neighbor's Bookstore, and they were instrumental in helping me begin this business, sitting down with me and answering a thousand questions back in 1999 and then helping me when my first book came out in 2001. They sell a lot of my books.)
I signed books for three hours, chatting with many people who've been coming every year since the beginning. I also met a lot of new people who'd heard about the Owen McKenna mystery series and wanted to check it out. Some people wanted their picture taken with me. Yikes. But I smiled and tried to be gracious.
Afterward, I went home for a quick dinner, grabbed a few hours of sleep, then got up Saturday morning and headed through the Tahoe traffic and down to Sundance Books in Reno.
At Sundance, I gave a talk, told them a bit about Tahoe Ghost Boat, did a reading, then signed books and, oh yeah, smiled for more pictures. Before I left, one of the store owners asked if I could provide them with a second display so they could showcase more of my books. It's hard to get a store to put in a display for your books. This was the first time a store has wanted to devote double display space for my series, so I was excited!
When the Sundance crowd thinned out, I jumped in the car and drove up the canyon to Truckee where I stopped at The Bookshelf to see that they had a good supply of the new title. I'll be up there again on Thursday for the Truckee Thursday street celebration where I'll be signing at The Bookshelf's tent. But they were eager for the new book as long-time Bookshelf employee Carol had just finished reading her Advance Review Copy of Tahoe Ghost Boat and pronounced it my best book yet. Really? I like to think so, but I've got a bit of bias on this issue.
Next, I headed south toward Tahoe City on 89 alongside the Truckee River which, incidentally, is still flowing well despite the drought. (Lots of rafters!) I went to a store called Geared For Games in the Boatworks Mall in Tahoe City. Geared For Games sells a lot of books for me and they wanted me to do a signing. They set me up in the middle of the renovated old warehouse mall and I repeated my efforts, signing books for an hour and smiling for more pictures.
After that, I updated and refilled the Geared For Games Owen McKenna display. The owner also owns the Mind Play store in Squaw Valley, and they sell my books, too, so I filled an order for that store.
By the time I got home, 24 hours had passed since the first book I signed at Artifacts the evening before. One day, five stores, hundreds of books signed, 175 miles driven, and a lot of happy readers. (Hopefully, they will still be happy after they've read my latest book!)
And when I got home, I noticed that the Kindle version of Tahoe Ghost Boat had jumped onto Amazon's Private Investigator Bestseller list.
Now I regroup, and start another round this coming week. A talk and signing at the library on the South Shore, then The Bookshelf in Truckee, then a talk and signing at Shelby's books in Minden, NV, then back to the South Shore at the Red Hut, then to Carson City, Reno, then Genoa, Nevada, Placerville, CA, Sacramento, San Jose, Quincy… You get the idea.
Thanks to all of you for your support and interest!